High-Potency APIs (HPAPIs)
Seqens has been involved in the small-scale production of potent compounds for many years. As an element of our growth strategy, the Company was seeking an opportunity to construct a potent unit at one of our network sites in Europe or the USA — in 2020, this plan officially came to fruition.
NEW POTENT DRUG API Synthesis MANUFACTURING UNIT
The facility consists of two units, located in the same building, a smaller one named UPP10 and a larger one named UPP30, to handle production of potent molecules from tens of kilograms to several hundreds. The initial capacity will be 10–15 tons per year.
The potent unit will maintain a maximum level of particles in the working environment of 100 ng/m3. This level will allow for the production of Safebridge category 3 potent compounds — molecules with occupational exposure limits ranging from approximately 30 ng/m3 to 10 μg/m3.
The modular unit is specifically designed to be flexible and allow for future investments as customers needs evolve.
This investment of 30 million euros in one of the 3 leading technologies in pharmaceutical synthesis demonstrates the SEQENS group's ability to design, develop and industrialize the most complex molecules while maintaining a high level of performance in terms of quality, safety and respect for the environment.
SEQENS inaugurates its HPAPI unit, in the presence of Emmanuel Macron, President of the French Republic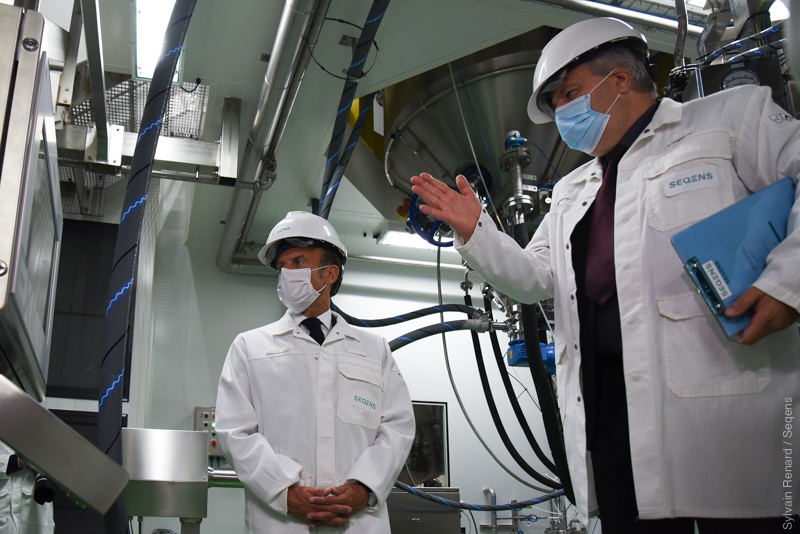 High-Potency APIs site Villeneuve-La-Garenne
Our location
Address
35 Avenue Jean Jaurès
92390 Villeneuve-la-Garenne
Business Line
Contract Manufacturing & Proprietary APIs
Mail
info.cdmo@seqens.com
More information
Capabilities: 
70 m³ of GMP reactors
100 L – 8 000 L vessels
Flagship technologies: 
Optical resolution
Enzymatic hydrolysis
Enantioselective reduction
Low-temperature reactions (-80 °C)
Specific reduction
Hydrogenation (40 bar)
Organomagnesium compounds
Thin-layer distillation
Last inspections:
ANSM 2019
ANVISA (Brasil) 2018
FDA 2016